2020 has been the strangest of years and not just for padel players.
Few people will be sorry to see it end but it wasn't all doom and gloom, especially for padel in Ireland.
Lets have a look at some of the things that happened, good and……….. not so good;
Nations Cup
We were very happy to see that two of our players, David Borton and Barry Coffey, were chosen to play for the "British and Irish Lions" in a Seniors Nations Cup event to be hosted by the German Padel Federation in Madrid in mid-March. Everything was in place, airline tickets purchased, hotels booked and even the team shirts delivered and then suddenly the event was cancelled due to something called COVID 19.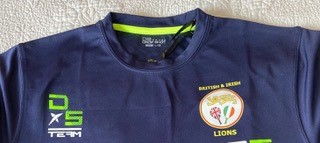 It was to be a minor hiccup and the ensuing lockdown expected to last about three weeks. Such innocence!
Six Nations Masters
The next major event was the Six Nations Masters tournament which was moving from its original base at Casa Padel in Paris to its new home at Helsingborg Padel in Sweden.
Originally scheduled for mid-April it was thought a postponement to September would be safer. "Sure this COVID nonsense will all be sorted out by then". Wrong!
After another postponement, this time to the end of November, it was found that the problems caused by travel and quarantine regulations made getting teams from England, Scotland, Sweden, Finland, Switzerland and of course Ireland safely to and from Sweden proved insurmountable and the event had to be postponed until 2021. A firm date has not yet been set but it is thought that late summer or early autumn might be best. The wonderful poster will have to have a change of date but the tournament will go ahead. We would like to thank our partners Padel Tech Ltd for kindly supplying the team outfits.
Indoor Padel
Without doubt the most exciting news of 2020 for padel lovers everywhere was the opening of "The Padel Club" at the magnificent Adare Manor Hotel in County Limerick. This is the first purpose built indoor padel centre in Ireland and offers two state of the art AFP Pro padel courts which have been expertly installed by Padel Tech Ltd.
The Padel Club is open to hotel guests so what better reason to treat yourself to a luxury getaway, with padel.
Celbridge
If the arrival of indoor padel in the Republic of Ireland in 2020 wasn't enough we are delighted to announce the opening of the first indoor "pay and play" padel facility.
This dynamic new centre, situated at the O'Hanlon Activity Park in Celbridge, County Kildare is scheduled to open in February 2021.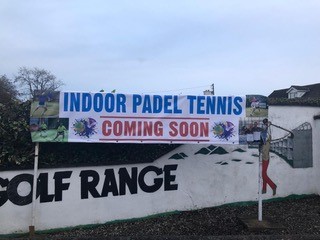 Phase one of the project includes two "Adidas Pro" padel courts which will be installed by Padel Tech Ltd an official licensee of AFP Courts/Adidas Padel. 
The owners have erected a huge banner outside the park which is already generating lots of enquiries.
No more padel in rain. It is going to be great. 
View a promotional video from IPA president, Barry Coffey.
Portmarnock Padel Club
A somewhat uneventful year of Padel at Portmarnock due to the pandemic. 

On 1st of March the Lions Club organised a volunteer showcase in Portmarnock GAA club to help promote social and sports activities in the area. Peter Cranny, John Leonard and Gerry Dunne were there to promote the sport of Padel.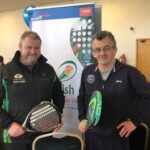 The event was well attended and there was lots of curiosity about the sport. Unfortunately events were to unfold that would have a huge impact on the promotion of the sport. 
In March Ireland entered the first lockdown and Padel was suspended. Padel resumed again during the summer albeit with a strict protocol in line with Government and IPA guidelines. 
Tournament play and popular social 'mix-ins' were suspended. 
Players certainly enjoyed being back and the court was very busy. We met some new players who were keen to try out Padel while their own sport remained closed. 
The club also attracted new players from abroad. We learned a lot from their pure Padel skills and enjoyed their excellent company. 
Regrettably we were unable to show them the renowned Irish hospitality. That's for another day. 
In October the country entered level 5 and Padel was once again suspended.
But on 1st December the court opened again for play and there was an enthusiastic flurry of bookings. 
Fitzwilliam

Fitzwilliam LTC is Ireland's premier racquet sports club and the "home of Irish tennis and squash". After completing major clubhouse redevelopment in 2020, Fitzwilliam has decided that its next project will be
the installation of three padel courts early next year. The club already counts a number of keen padel players amongst its members and expects its new padel facilities, in conjunction with the upgraded clubhouse, to attract a number of new members. The Fitzwilliam courts will provide a boost to the further development of padel in Ireland, especially in the tennis club sector, and the wealth of racquet sport talent within Fitzwilliam should help to raise padel playing standards as the padel bug bites and the top tennis and squash players develop their games.
Padelist – The World Padel Community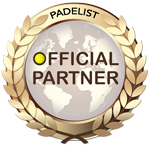 Have you ever travelled for business or pleasure, seen some padel courts and wished you could organise a game but don't know anybody in town?
Say goodbye to that problem right now.
Irish Padel Association have teamed up with Padelist – The World Padel Community to help you out.
Padelist is a new platform for putting padel players together regardless of country or indeed level of play.
All you have to do is go to https://padelist.net register your profile and join up with other padel players from all over the world.
The service is web based so much more user friendly for those of you (us) who can't be bothered downloading yet another app.
   As well as all of this, members can avail of special discounts from online padel retailers.
---
The Padel Club at Adare Manor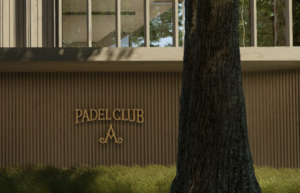 We are excited to announce the imminent opening of Ireland's first purpose built indoor padel facility. "The Padel Club", located at Adare Manor in County Limerick, features two AFP Panoramic padel courts (All for Padel Courts) delivered and expertly installed by our partners and kind sponsors Padel Tech Ltd.
As well as completing this fantastic installation, on time, Padel Tech have also installed two new padel courts at Market Harborough Squash and Racketball Club in South Leicestershire, UK. That makes four courts in two countries in one week. Well done Padel Tech.
https://www.adaremanor.com/introducing-the-padel-club/
Support for Irish Padel Association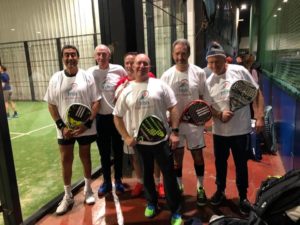 Players at the LTA event in Bangor showing their support for Irish Padel Association. The Vets event was won by David Borton (Ireland) and John Byrne (Scotland).
Irish Padel Open Day
Irish Padel and Portmarnock Padel Club are holding an Open Day of Free Padel on Saturday May 11th 2019 at Portmarnock Sports & Leisure Centre from 11:00 am to 17:00. Come and try a free game of Padel, the fastest growing sport in the world.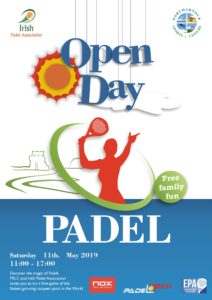 Irish Padel joins the European Padel Association as an observer member
From EPA facebook.  EPA is happy to announce that Irish Padel (Irish padel association) has joined our organization as observer member. As foreseen in our bylaws, the observer's status will be changed to regular member after approval is given by our September's general assembly.
Welcome 🇮🇪 ☘️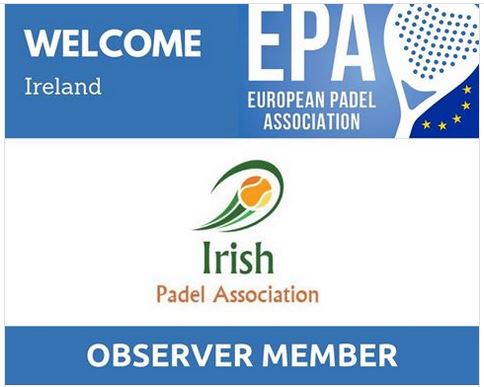 PadelTech sponsors Irish team

We are delighted to announce that PadelTech, the UK's premier padel court installer, are sponsoring the Irish team outfits for the forthcoming Six Nations Masters Padel Tournament which will take place at Casa Padel in Paris on March 16th and 17th.
An official licensee of Adidas Padel, and a British Padel approved supplier, PadelTech have gained an international reputation for their technical expertise and top quality service.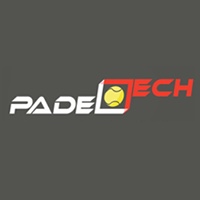 Amongst many installations in the UK and worldwide some of their well known projects include the annual pop-up court at London's Canary Wharf, hurricane resistant courts at the Sandy Lane resort in Barbados and a court with canopy at Manchester City FC.
Several of the Irish team travelling to Paris will already have played on the magnificent Adidas Padel "Panoramic" court located at the West of Scotland Padel Club which was also installed by PadelTech.
We are extremely grateful to PadelTech for their support and urge any Irish clubs who are considering the installation of padel courts to "support those who support us".   Find PadelTech on Facebook or at www.padeltech.co.uk
Padel feature in Cara magazine
The current (February/March 2019) issue of Cara, Aer Lingus' inflight magazine – also available to read online at https://issuu.com/caraaugust/docs/cara_feb_mar_2019_low_res – features a piece on padel in Ireland and particularly Ireland's participation in next month's 6-Nations tournament, illustrated by an action shot of our very own Barry Coffey and David Borton.  Flyers (and online browsers) can find the article in the Check In section of the magazine, on page 20.
Irish Over-45 Men's Team for 2019 Six Nations Tournament selected
The Irish Padel association has announced the Irish squad for the 2019 Masters Padel Tournament in Paris on 16th-17th March.
The Irish team is:
David BORTON;
Barry COFFEY;
Dave FLYNN;
Mike KEMP;
John LEONARD;
Conor McCULLOUGH;
Jerry SHEEHAN;
Rob WHARTON.
The Masters Padel Tournament follows a league format, and Ireland will play five 3-rubber matches against England, France, Monaco, Scotland and Switzerland in an intense two days of competition at the superb Casa Padel 12-court indoor padel centre at St.-Denis on 16th/17th March.    COYBIG!!
Irish Vets top 2018 British Padel Rankings
(L-R): David Borton, Barry Coffey, Debbie Brown & Orla O'Doherty
Congratulations to Irish players Debbie Brown, Orla O'Doherty, David Borton and Barry Coffey who finished 2018 at the top of the British Padel Tour (BPT) rankings.
Debbie and Orla finished the season in joint no.1 spot in the women's O/45 ranking list.   Barry topped the men's list after winning ranking points in every tournament during the season, with his regular partner David at No.2, 150 points clear of the next highest ranked player.
Ireland's Peter Cranny and Rob Wharton were also ranked in the top 30 on the BPT Vets ranking list for 2018; while Barry (No.9), David (No.14), Rob (No.17) and John Leonard (No.52) also secured end-of-year rankings on the main BPT Men's ranking list.
Current BPT rankings are here:  https://www.britishpadel.org.uk/rankings/