6 Nations Masters – Finland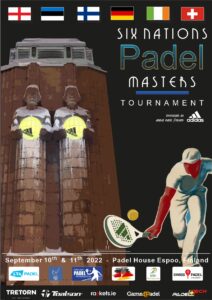 Sponsored by "adidas padel Finland" and organised by the Irish Padel Association the Six Nations Masters Padel Tournament will take place on September 10th and 11th at The Padel House, Espoo, Finland. Teams representing England, Estonia, Finland, Germany, Ireland and Switzerland will compete for the 2022 title. Our sincere thanks, not only to main sponsor "adidas padel Finland" but also to our other partners, Padel Tech Ltd, Game4Padel and of course our newest partner, from Ireland, rackets.ie
Thanks also to Peter Cranny for designing another great poster "The Guardians of padel"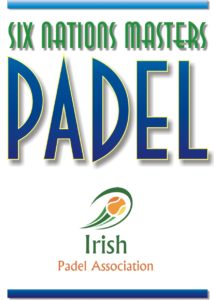 6 Nations Masters – Sweden

There was no entry fee to play in the 6 Nations Tournament in Helsingborg last weekend. Nonetheless, all of the players received a fantastic free "Welcome Pack" thanks to the generosity of our Partners.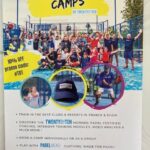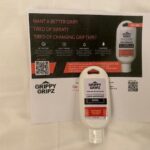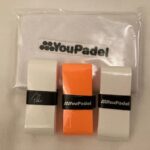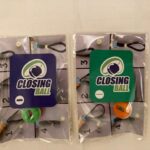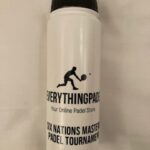 The annual 6 Nations Masters Padel Tournament, which was postponed on foot of the Covid19 pandemic, will now take place on November 27th and 28th in Helsingborg Padel.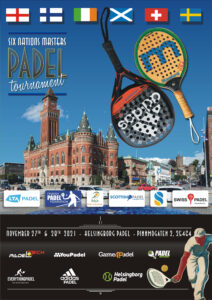 The 6 Nations Tournament is organised by the Irish Padel Association and is supported this year by Padel Tech; Adidas Padel; Game4Padel; YouPadel; EverythingPadel; and Padel Intelligent.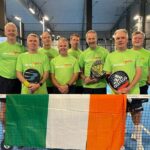 Ireland are joined at the 6 Nations by old adversaries, Scotland, England & Switzerland. This year the Masters teams of Finland and Sweden join in.
6 Nations postponed
Due to current health concerns caused by the Covid 19 disease, the 6 nations tournament is postponed until later in 2020. Dates will be announced.
6 Nations Masters Padel Tournament 2020
After much deliberation the selectors have announced the team that will represent Ireland at the 2020 "Six Nations Masters Padel Tournament". The event will be held at the magnificent Helsingborg Padel Club (Sweden) on April 25th and 26th.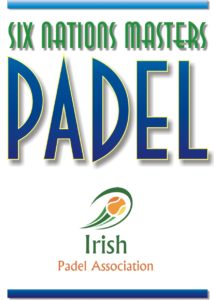 The team, which includes three new caps, is as follows:- David BORTON, Barry COFFEY, Jim FLYNN, Mike KEMP, Conor McCULLOUGH, Niall MURPHY, John SHERIDAN, Rob WHARTON.
The Irish team will be competing against teams from England, Finland, Scotland,Sweden and Switzerland
6 Nations Masters Padel Tournament 2019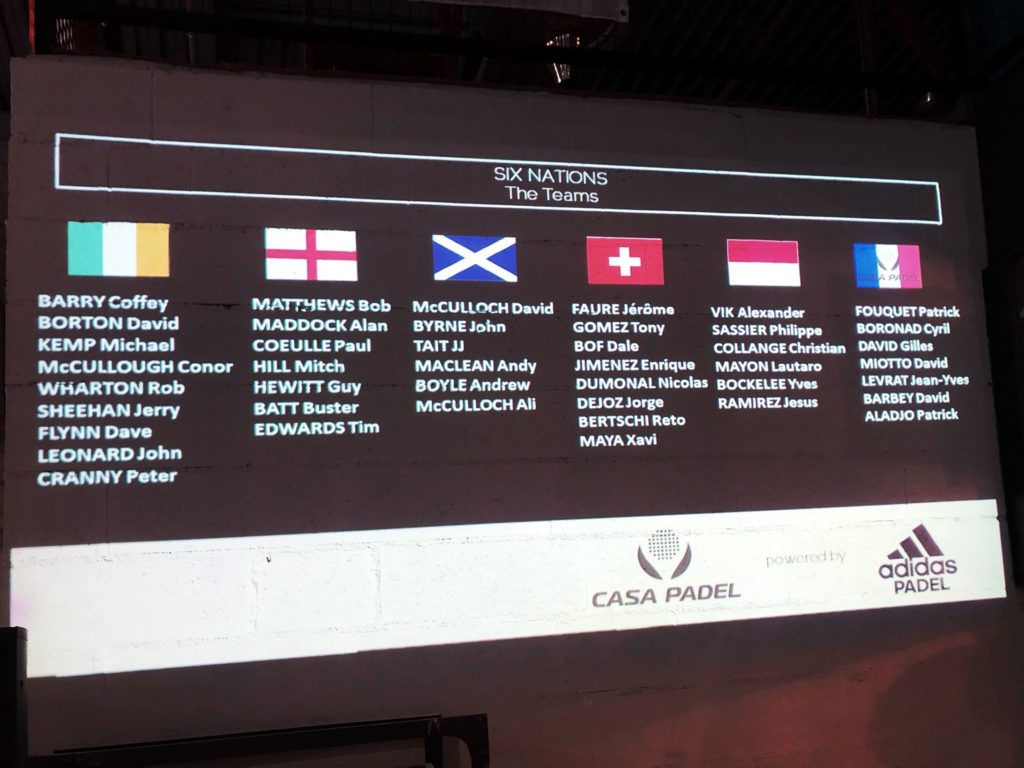 This year we were joined by France (Équipe Casa Padel) and Switzerland to grow the Tournament to 6 competing nations. France stormed into this tournament sweeping aside all comers with a masteful team perfomance. Switzerland came in second with a strong performance which was enough to see off both England and Ireland into 3 & 4th place respectively. Scotland came 5th with Monaco bringing home the Wooden Spoon. (literally). More here in the video Diary.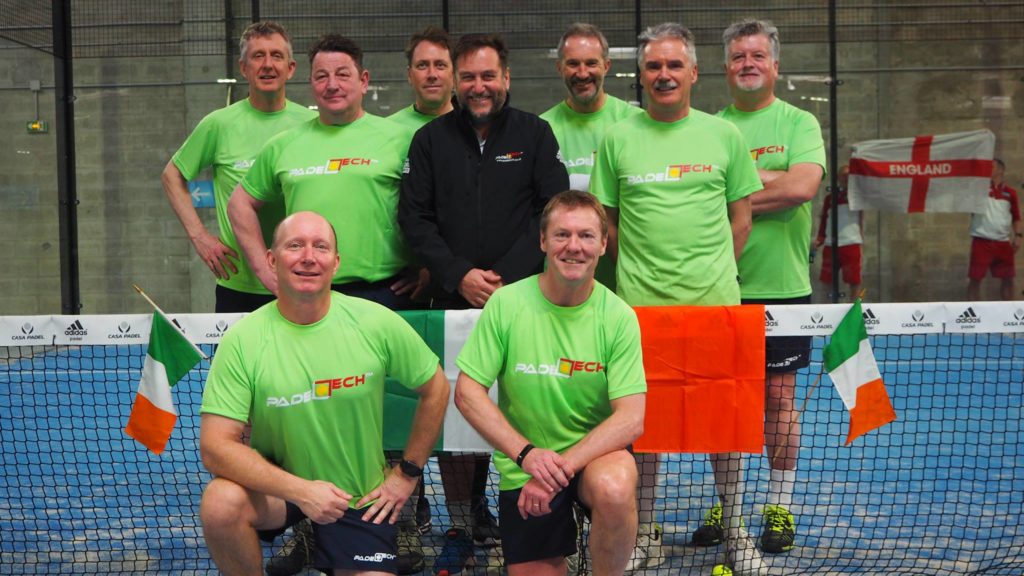 The 4 Nations Masters event has expanded for 2019. It is now The 6 Nations Masters Tournament
The Tournament will comprise 6 nations in 2019. This year we are joined by Switzerland and France. The French Masters Team will be represented by Équipe Casa Padel.
Chef du Tournoi, Barry Coffey, vice-president of the Irish Padel association and Casa Padel will no doubt, ensure that this years event will be even better than last year's fantastic inaugural 4 Nations. Welcome Équipe Casa Padel and Switzerland.
Casa Padel is such a wonderful venue for this event and Irish Padel Association are delighted that Casa Padel is hosting this year's Tournament.
Special acknowledgement to Padeltech, the UK's premier padel court installer, for sponsoring the Irish team outfits for the Six Nations Masters Padel Tournament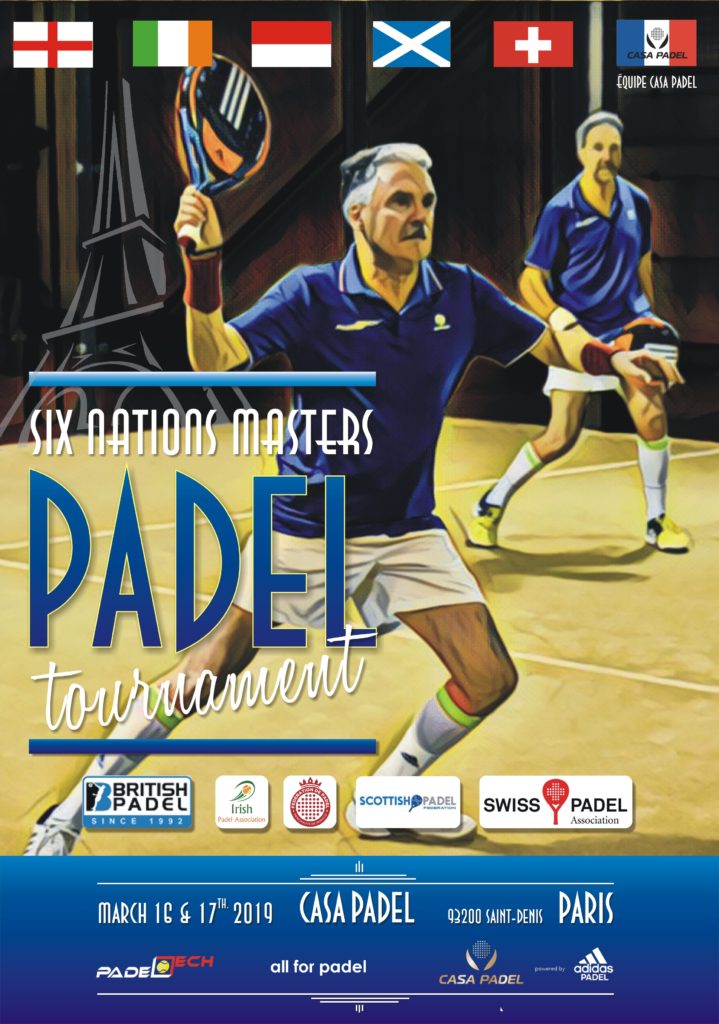 Successful Inaugural 4-Nations Event in Paris
The inaugural 4-Nations 0/45 Padel Tournament in Paris on 7th-8th April was reckoned a great success by all involved.  The tournament was played at the imposing 12-court Casa Padel indoor centre in St.-Denis (https://www.casapadel.fr/Index.aspx).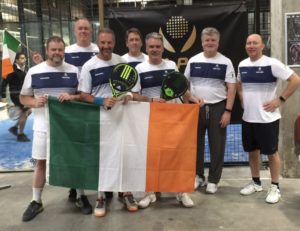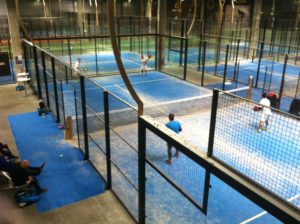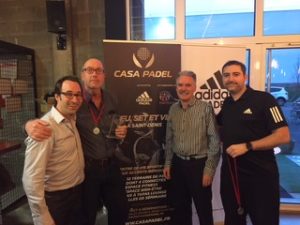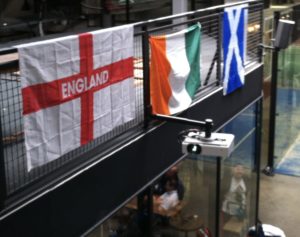 In the team event on Saturday 7th April, Ireland beat Scotland (2-1) and Monaco (3-0) but came off second-best against a strong England team (0-3, although all competitive matches).  The final standings were:
1st         England
2nd       Ireland
3rd        Scotland
4th        Monaco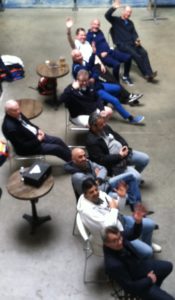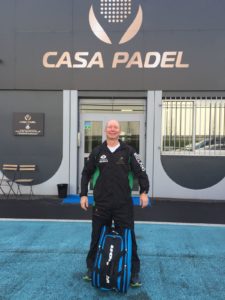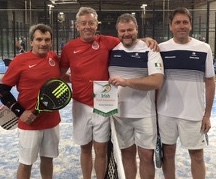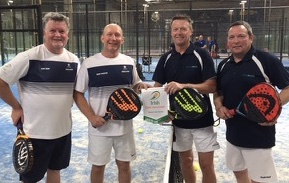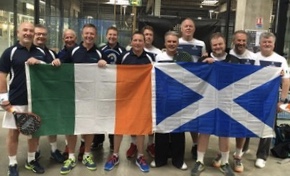 Ireland's No.1 pair, David Borton and Barry Coffey reached the semi-finals of the individual event on Sunday 8th April.  The event was won by a local French pair who had qualified from a preliminary event held in parallel with the 4-Nations team event on Saturday 7th, beating the Scottish No.2 pair, David McCulloch and John Byrne, in the Final.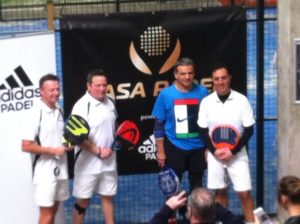 Planning has already started for the 2019 edition, which it is hoped can be expanded to include an official French team in the team event.
Irish Team For Paris 4 Nations Tournament Selected
The Irish men's O/45 Team for the 4-Nations event in Paris on 7th-8th April has been announced.   The team is:
4 Nations Masters Padel Tournament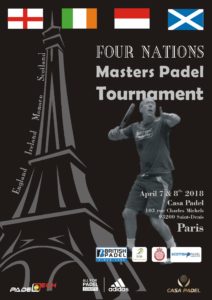 We are delighted to announce the "Four Nations Masters Padel Tournament" (Gentlemen +45yrs).   The participating nations are England, Ireland, Scotland and Monaco.   This event will take place on April 7th and 8th at Casa Padel in Paris. There will be a team event on April 7th followed by an individual/pairs tournament on Sunday 8th.  This event is being sponsored by PadelTech, ALL FOR PADEL COURTS-Official Adidas Licensee, and Casa Padel to whom we are very grateful.